We are very pleased to present the second edition of Les Entretiens d'Abu Dhabi, focusing this time on the future of Artificial Intelligence and the arrival of the robot age.
This conference is an extension of the discussions in December 2017 at the Entretiens de Royaumont, and it is held with the participation of its founder Jérôme Chartier. In the UAE, the topic hold a particular importance in view of the newly created UAE Ministry of Artificial Intelligence.
AI is transforming daily life, in education, culture, sustainable development, economy, security and defence.  Through round-tables, conferences and networking opportunities, you can expect to hear the views of experts, thinkers and entrepreneurs from France, Abu Dhabi and all over the world on the following topics :
Culture & Knowledge
Security & Human Society
Mobility
Sustainability and Energy
Banking
Several ministers of state, CEOs of major organisations, experts and advisors will share their latest developments in AI technology and practical advice for applying them to your business.
If you would like to share your and your company's experience of AI, contact us today !
We are very grateful to the major corporations, including that are supporting this event ! There is still time for your company to be a key partner : contact Florence Figier de Brettes on projectmanager@fbgabudhabi.com to know we can work together to increase your company visibility through this great opportunity.
The Entretiens de Royaumont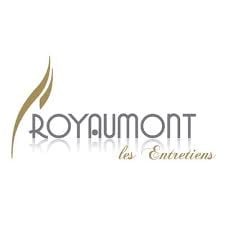 This event is held with the participation of Jerome Chartier, founder of Les Entretiens de Royaumont.
Grown out of meetings and exchanges organised in the 1st half of the 20th century in the Abbey of Royaumont in France,  Les Entretiens are a yearly cycle of conferences aimed at imaging the future and opened to unrestricted discussions. Since 2003, major decisions makers, entrepreneurs and recognised experts deliberate and exchange with complete freedom of expression on topics ranging from politics, economics, social sciences, foreign affairs and technology.  The theme of the 2018 edition is « Being a Woman ».
The first edition of the Entretiens of Abu Dhabi was held in 2016, devoted to the future of energy and the protection of the environment.