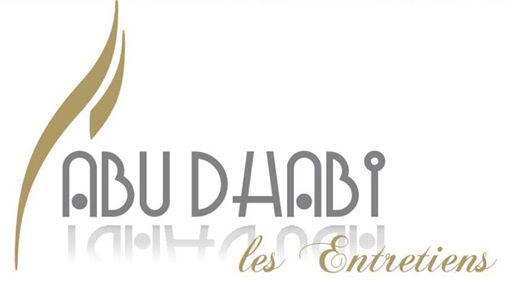 SIGNATURE OF A MoU BETWEEN SORBONNE UNIVERSITY ABU DHABI
AND THE FRENCH BUSINESS GROUP
The 3rd edition of Les Entretiens d'Abu Dhabi is officially launched !
Quarter 1 2020 (Date to be confirmed)
"Diversity & Innovation: towards a more inclusive world" in line with Year of Tolerance 2019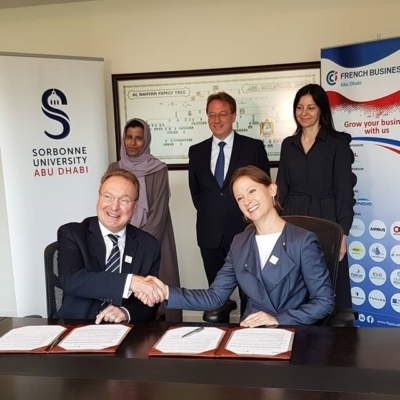 Following the success of the 2 previous editions of Les Entretiens d'Abu Dhabi organised by the French Business Group in collaboration with the Embassy of France and the Sorbonne University Abu Dhabi, the French Business Group will be hosting the third edition of Les Entretiens d'Abu Dhabi, this year at the Sorbonne University Abu Dhabi.
In preparation for this event, and in line with this successful collaboration, a Memorandum of Understanding was signed between Sorbonne University Abu Dhabi represented by Prof. Eric Fouache, Executive Director and the French Business Group represented by Mrs. Anne Le Guennec President, in the presence of His Excellency Mr. Ludovic Pouille Ambassador of France to the United Arab Emirates.
"I am delighted to attend the signature of this MoU and I look forward to participate, next September, in the 3rd edition of "Les Entretiens d'Abu Dhabi" in an iconic place like Sorbonne University Abu Dhabi, a symbol of academic excellence and cultural dialogue. This exciting event reminds us that France and the United Arab Emirates share universal values of tolerance and work together to build a more inclusive society, with equal opportunities for all". H.E. Ludovic Pouille, Ambassador of France to the UAE.
"The FBG is delighted to organize this event in such an iconic facility as the Sorbonne Abu Dhabi and to bring together inspiring speakers to debate on how we can build a better world through diversity, inclusion, education and smart tech." Anne Le Guennec
''The cooperation of the FBG with SUAD for the third edition of ''Les Entretiens d'Abu Dhabi'' reflects the association of the academic and research world as well as of the business world for the benefit of the community.  I seize this opportunity to thank ''Les Entretiens du Royaumont'' in France for their trust and I would like to highlight that their main objective is to create a place that brings together all the actors of civil life in order to discuss social themes of major importance.'' Professor Eric Fouache
Ministers of state, CEOs, experts and advisers will be setting the conference outline and share their latest developments, insights and practices as speakers, moderators and session participants, around building a better world by making it more inclusive and more innovative.
Les Entretiens d'Abu Dhabi are a version of Les Entretiens de Royaumont,
More about the Year of Tolerance 2019 in the UAE click here 
To view last year's event click here 
For interviews, comments and further information on FBG involvement in the 3rd Edition of Les Entretiens d'Abu Dhabi, please contact: Nayla Samaha Khalife Communication Manager
+971 (0)2 674 1137 ext.202 / communication@fbgabudhabi.com