Join us and other business groups for a conference on Economic Update and Outlook for the MENA region !
Chavan Bhogaita, Managing Director and Global Head of Marketing Insights & Strategy at First Abu Dhabi Bank (FAB) will present his views on key global macro topics such as interest rates, Brexit, global trade and oil, along with providing an update on key issues in the MENA region.
Chavan Bhogaita will be joined by an esteemed panel, for an interactive discussion with an analysis of these macro trends & their regional implications.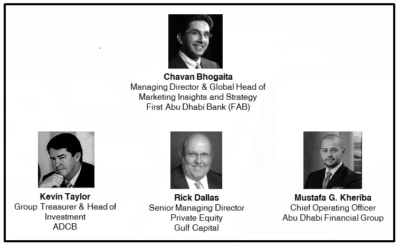 This is a joint event with:


Members: 180 AED / Non-members: 220 AED
To register, fill in the form at the bottom of the page.
Kindly note that this is a pre-paid event, and participation will only be confirmed once the full payment has been received. Payment can be made by bank transfer, or cash and cheque to our office. Cancellation is possible until Sunday 9th September, no-show fees are applicable after that date.
Here are the pictures of the event !